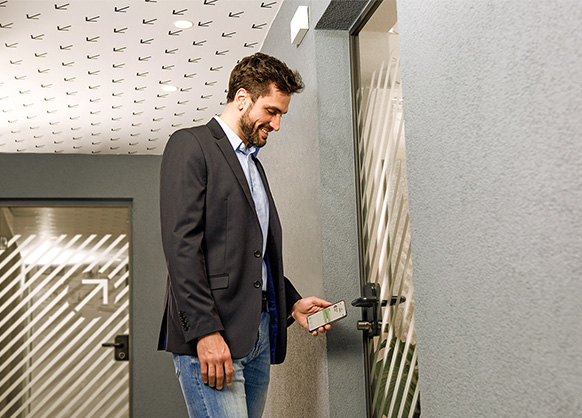 In June, Interflex presented Opendor, the latest generation of battery-powered wireless locking components. The new product line, which includes locker locks, electronic lever handles and locking cylinders as well as door fittings, literally opens the doors to modern, smart access control. This is because previous offline locking components are now being equipped with online functionalities, enabling access rights to be assigned centrally in real time. But this is not the only area where users have many advantages. Because "We will continue to develop this product line both in terms of the availability of different designs and in terms of functional diversity," announced CEO Bernhard Sommer in June at a customer and press event. "The IF-6040 host system will also be expanded to include additional features."
With the latest software release of the IF-6040 system in version 10.3, users of Opendor will therefore now (from November 2021) benefit from additional functionalities.
"When developing Opendor, we specifically focused on the various requirement profiles of our customers," explains Robert Karolus, product manager for hardware components at Interflex. "We are observing a continuously increasing demand for online-capable locking components. Smartphones and wearables in particular are accelerating the trend toward mobile keys."
Thus, with the new version 10.3, it is now possible to integrate the smartphone as a digital door opener in a modern access concept in addition to the RFID badge as an ident medium. Bookings are made via the "Key" app (Android, iOS), the app is connected to the IF-6040 software via data link.
Since the battery-powered locking component communicates wirelessly with the system software and the gateway, firmware updates for the component can now also be transmitted conveniently "over-the-air" without much effort. In addition, the component independently reports the battery status directly to the IF-6040 system, instead of via the badge or token as was previously the case. This is an important function that particularly supports facility management during maintenance.
But even wireless connections can be interrupted or "offline" in individual cases. Until now, the locking component stored the last 1,000 bookings directly in the fitting so that access would still be possible if communication between the system software/gateway and the component was interrupted. Now, Interflex is expanding this functionality to include a "permanent authorization list" for special groups of people, such as the fire department, who must be able to open doors at any time in the event of an extreme emergency.
With the new generation of an access control system, Interflex offers its customers modern corporate protection that meets the requirements of the digital transformation of modern companies. "Digitalization is part of our DNA," Sommer emphasizes. "We don't need to reinvent ourselves. We've always been a company that has driven digitization and software development."
Learn more about the products in the Opendor air and Opendor card variants.