Interflex Managed Services cloud based solution
Interflex Managed Services: Time recording, time management, personnel scheduling, access control and visitor management in the cloud.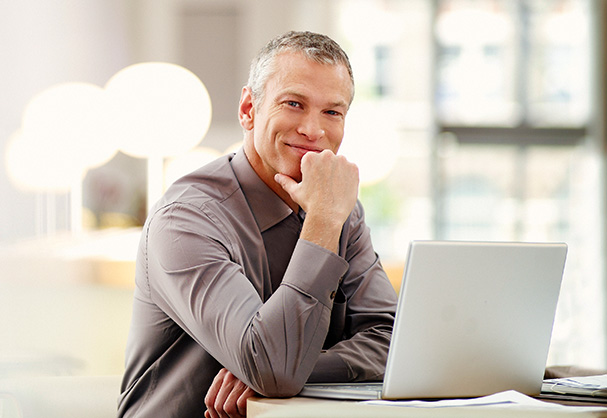 The cloud makes work easier securely
Since the ruling reached by the European Court of Justice in 2019, companies of all sizes have to record work time data and protect their employees and corporate assets with access control. To ensure a smooth operation, the systems for recording work time and for controlling access rights must be monitored, supervised and maintained. That ties up valuable resources and know-how. There is usually no time left for risk minimization and strategic further development. There is only one thing that helps – moving the application into the cloud. With Interflex Managed Services, we offer you a system platform that combines your time recording, time management and personnel scheduling with the advantages of access control and visitor management into a cloud-based service.
Security from a single source
Interflex Managed Services integrates everything in one system:
The entire host infrastructure ranging from the data center and servers and auxiliary back-up infrastructure through to network security
The IF-6040 software application with the user packages for time recording and time management, personnel scheduling, access control and visitor management
Peripheral hardware such as access terminals, locks or credentials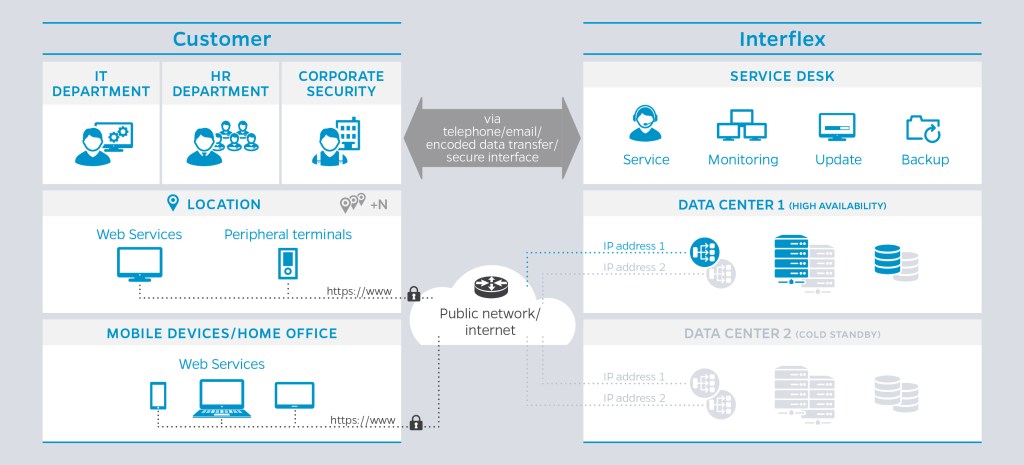 Conserving resources and saving money
Interflex Managed Services make work easier for many areas in your company: HR and IT departments, Corporate Security, Facility Management and the technical infrastructure. By switching to the cloud, you are able to conserve resources, increase your productivity and save money. With our cloud-based overall solution, you get investment security and can quickly respond to the changing market conditions. By doing so, you create an environment for your employees to focus better on their main tasks and regain their most important resource – namely time.
Advantages for your applications such as time management and access control in the cloud
Flexibly scalable
Interflex Managed Services has a modular design. Choose the services, user packages and functions that suit your requirements.
Focus on main tasks
Interflex assumes support of the cloud-based solution. As a result, your employees can focus more on their actual tasks.
Maximum availability
Keep an eye on your applications and data around the clock from anywhere via the internet. Bookings and inquiries are processed in real time. Constant monitoring and proactive optimizations ensure the performance of the system and applications.
Secure and user-friendly
Interflex Managed Services has modern security standards such as a certificate-based end-to-end encryption, thus enabling secure communication. Automatic backups and disaster recovery processes are also integrated. Benefit from regular updates and upgrades of new functions, extensive security patches and constant further development in terms of usability.
Projectable costs
Adapt your actual need for active users to your company's development using the "Cloud-on-Demand" licensing model. That guarantees full flexibility and costs that can be projected at the same time.
Individual advice and support
Requirements are implemented quickly and competently by our experts to ensure that the web-based solution is customized and suits you.
Highest standards in terms of data security
Technology zone, representative zone, application zone and DB zone as well as a strict separation of our clients ensure data security that complies with GDPR. Your data are stored in Germany.
Certified quality
Interflex Managed Services is certified in accordance with ISO 27001 and based on the ITIL IT Service Management Framework (Information Technology Infrastructure Library).
Flexible use
The cloud-based system can be implemented as a standalone solution or linked to other systems via interfaces, e.g., for importing person records.
Who is the solution suited for?
For all companies that are looking for solutions for time management and access control in the cloud and thus want to reduce their expenditure and costs.
For all customers who already use an electronic access control or time recording systems from Interflex and would like to benefit from an upgrade to the cloud.
Do you have any questions? We are happy to help you!
To reach the appropriate contact person at Interflex, please select the suitable contact method. If you are already a customer, kindly use the Contact form "I am an Interflex customer" and get in touch with the desired department via email.
If you haven't had any previous interactions with Interflex but are interested in our solutions, we would be pleased to receive your inquiry through the Contact form "I am interested in becoming a customer" We will endeavor to respond to you promptly.
Do you have a question, require information, or wish to share feedback with us? Please select the relevant department for your inquiry: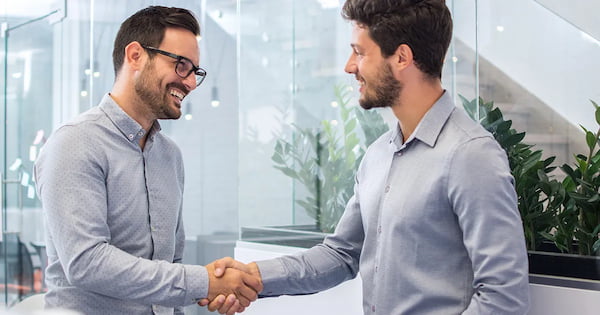 Feedbackmanagement:
Would you like to provide us with feedback? Please feel free to send us an email to: