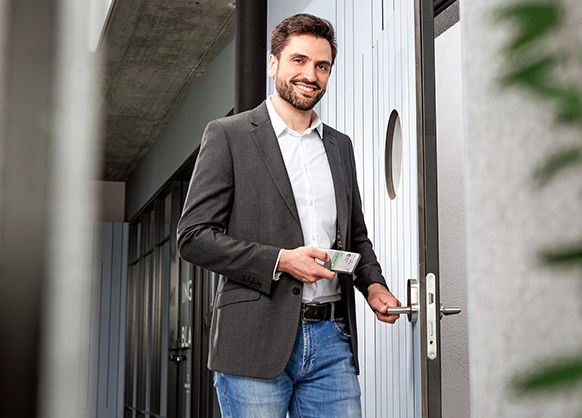 "Over-the-air" is the keyword when it comes to the latest generation of wireless, battery-operated locking systems from Interflex. As a long-standing, experienced provider of access control solutions, we are driving digitalization in the industry forward with our new Opendor product line – made in Germany. With Opendor, we offer everything from a single source: from software and hardware to consulting and service. We consistently pursue our holistic approach.
The new product line includes the IF-261 locker lock, the IF-281 locking cylinder, the IF-271 electronic door handle and the IF-241 door fitting. The new products run on a specially developed reader platform, are battery-operated and are available in two variants – in the Opendor air and Opendor card versions. With the Opendor air version, Interflex also offers the IF-4041 gateway for online connection.
Latest technological standards
The technological basis for the new products is a specially developed reader platform. "We developed the platform for Opendor in-house and adapted it exactly to the products," explained Patric Anhold, COE manager, Interflex Electronic Products & Solutions. Thanks to the latest Bluetooth® Low Energy technology, the reader platform makes the battery-operated locking components wireless-capable and, at the same time, allows customers to upgrade from offline to online devices at any time.
The platform also has a powerful processor and is particularly energy efficient. "The new technology is based on the wishes and needs of our customers. We are in close contact with users, act proactively to their needs and derive innovative solutions from them. That's how Opendor came about," Anhold emphasized. "The demand for online-capable, battery-powered locking components is constantly increasing. Many of our customers, for example, want to integrate more doors into their security concept, but do not want to bear the high costs of cabling. On the other hand, others regularly rent external rooms and access control must be flexible and secure without the customer having to carry out extensive construction work. This means that our customers want a simple and secure administration of their locking systems and want to manage access rights across companies, centrally and uncomplicatedly. With Opendor air, our new online solution, this is now possible."
Online capable with Opendor air
The new product generation offers users a decisive advantage: The locking systems in the Opendor air variant are now online thanks to the new technology. The technology can be fully integrated into the IF-6040 system – a comprehensive software solution that offers modules for access control, visitor management, time management and personnel scheduling, among other things. The corresponding modules can be combined depending on the industry and requirements and provide the relevant data for Opendor.
"For Opendor air, we use the latest technological standards, such as Bluetooth® Low Energy. All data is transmitted from the IF-6040 host system via a gateway to the end device – i.e. to the locker lock, locking cylinder, door handle or door fitting. This enables a central assignment of access rights, which can be easily managed online in the system. Authorizations no longer have to be written to RFID ID cards. The ID card only serves as an identification medium," explained Anhold. At the same time, the locking components also transmit information such as bookings or battery status messages directly to the IF-6040 system via wireless technology.
From offline to online
"In concrete terms, this means that Opendor air turns the previous offline devices into devices with online functionalities. And that brings users a lot of advantages," added Anhold. Thanks to the new Bluetooth® Low Energy technology, they can manage up to 50 devices per gateway and achieve a range of up to 50 meters in buildings between the gateway and the locking component – which is exceptionally far. As a result, fewer gateways are required per installation, which saves costs.
In regard to costs, Opendor air also scores in terms of energy-efficiency, thanks to the energy-saving processor type over which the devices run. Because they communicate with the IF-6040 system via wireless technology, no cables need to be laid during installation. This saves both money and time. Another advantage: Access decisions can be made in real-time, recognizing real advantages for cross-door solutions, such as buildings with several entrances. Additionally, a smartphone can be used in lieu of the RFID ID card and updates can easily be transmitted "over the air" on the end devices – allowing even more flexibility.
Full integration with Opendor card
The devices of the new product line are also available in the Opendor card version. "During the development of Opendor, it was clear that we also wanted to offer a high-performance system to customers who do not want to or cannot switch to "air" technology. That's why the Opendor product line is also available in the card version," Anhold said. The Opendor card devices can be optimally integrated into existing systems and are particularly suitable for companies that want to secure branch offices, for example, where there may be little to no network infrastructure (i.e. wind farms). Even still, customers do not have to go without the advantages of wireless technology – an upgrade to Opendor air is possible at any time.