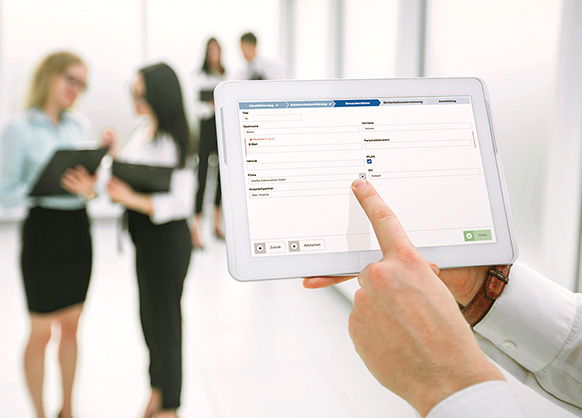 Companies are faced with new tasks relating to the General Data Protection Regulation (GDPR) when receiving visitors. The new "SME visitor management" from Interflex Datensysteme GmbH for its IF-6040 access control systems makes it possible to retain familiar processes even under the new rules. With the additional "visitor invitation" module, you can also minimise needless visitor congestion – a function that provides added security for visitors and reception staff, especially in times of uncertainty and crisis.

Companies that have kept their visitor documentation manual and in paper form up until now can use Interflex's "SME visitor management" to digitalise their visitor management and fulfil any legal requirements in accordance with GDPR. Another advantage of digitalisation is the professional external image. A visitor who conveniently enters their information into a tablet at reception will perceive the host company as modern and professional.
Familiar processes – modern software
With the new digital visitor management, companies can retain their familiar reception processes. This is beneficial if no big investments or restructuring are wanted. With SME visitor management, visitors report to reception as usual after entering the company building. They enter their information in a table instead of a traditional visitor's book.
Registration by tablet
Using the tablet display at reception, visitors first select the desired language and then receive the company's privacy policy. If they agree to this, the next step is to enter their information, for example, company name, first name and surname and the vehicle registration number if they use a company parking space. The display then shows the visitor safety information. Registration is completed after the visitor accepts this. This type of visitor registration not only guarantees that data is processed in accordance with data protection regulations, it also portrays the host as a modern and innovative company.
Less congestion
Companies that want to make the reception even more comfortable activate the "visitor invitation", which is included with delivery: seamless access reduces waiting times and crowds. This allows pre-registrations to be readily available and saved in the system. Visitors receive an email with visit information, including a PIN code and QR code in the run-up to their visit. This makes registration quicker on the day of the visit. Upon arrival, the visitor logs in within seconds using the PIN or QR code and can leave the reception area immediately.
Visitor management in accordance with GDPR: relevant laws
The GDPR applies when "personal data" (Art. 4 No.1 GDPR) is processed or stored (Art. 4 No. 2 GDPR).
In addition to the reason for storage (Art. 5, No. 1b – e.g. business premises visit), rules, such as data minimisation, (Art. 5 No. 1c) must also be observed. There is also the obligation to protect data from being viewed by unauthorised persons.
Furthermore, the collection of personal data always includes an obligation to inform each visitor (Art. 13, 14 GDPR) about the basis on which the data was collected and how the company handles the data.