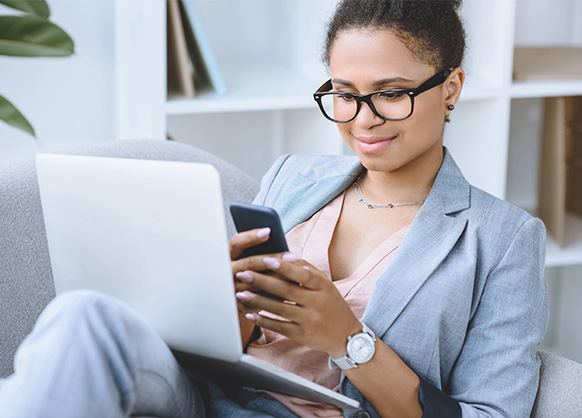 More and more companies are enabling their employees to work from home. In this context, flexible solutions are required to ensure that working hours are also independent of the office workplace. For this purpose, Interflex Datensysteme GmbH has equipped the IF-6040 Zeit software system with the option of recording working times via smartphone, tablet or PC – including vacation and absence bookings. This allows employees to correctly book their working times even from the home office. In addition, the software is equipped with workforce management functions. These support the HR department, for example, in strategically planning team working times or calculating personnel requirements.
In order to record working times even at work locations outside the company premises, the solutions from Interflex allow mobile time booking from any location – including business trips, vacation requests and an exact overview of the personal time account. Mobile booking of working hours eliminates the need for time-consuming follow-up maintenance and ensures significant time savings for employees and supervisors. "Companies now need to achieve maximum flexibility in personnel management in order to remain competitive," explains Interflex CEO Bernhard Sommer.
"What is needed is a workforce management system that goes beyond the mere booking of working hours and organizes decentralized and time-shifted team work. Special functions of our workforce management system offer the appropriate support for this and can be directly linked to mobile time recording".

Bernhard Sommer, General Manager of Interflex.
Accounting for all contract models
IF-6040 Time enables time accounts according to a wide variety of working time models. Useful for planning and cost transparency: working hours can be specifically assigned to certain projects, fields of activity or cost centers using software. The system reduces administrative tasks in the HR department, so that HR managers can use their time for other tasks. At the same time, it increases accounting security for all contract models – from full-time employees to part-time workers to marginal employees. This ensures correct accounting even in the event of contract changes. If an employee's mobile device is not connected to the Internet, the system automatically saves the data locally and synchronizes it as soon as an Internet connection is available again. Various evaluation modes in the workforce management functions of the software make it possible to use the recorded data additionally for strategic planning, for example, to calculate personnel requirements for the future or to calculate the personnel time required for new processes, forms of offering or business models.
Service for the personnel department
Interflex has established a forward-looking business model to additionally relieve the HR department with "Interflex Managed Services". This allows customers to commission the hosting of their time recording system by Interflex experts. If desired, Interflex can also take over the administration of the system, thus offering another innovative solution for its customers. The advantage: Companies with Interflex Managed Services benefit from additional time and personnel relief. Employees, supervisors and the HR department use the functions of the time recording system as usual. The technical support of the system software as well as the infrastructure, which goes beyond the functional application, is provided entirely by Interflex.