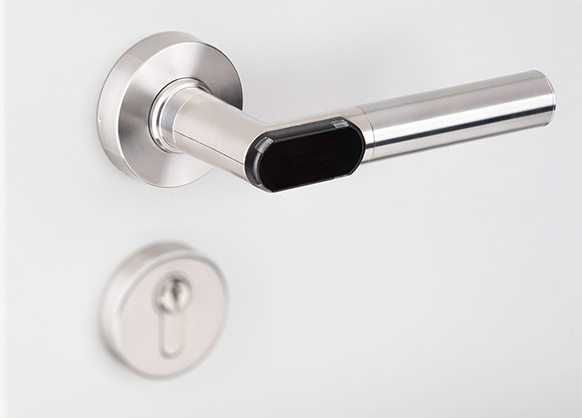 Are you looking for a fast, uncomplicated and inexpensive solution for opening doors and do not want to do without the advantages of electronic access control? Then Interflex has just the right thing for you! The IF-171 lever handle works with numerous European lock standards and in all common doors such as wooden, steel, aluminum as well as narrow frame doors.
But that is not all. The IF-171 lever handle takes over the function of a key by allowing only authorized persons to open the door. As a "key" you use booking cards in credit card format or in the form of handy key fobs. No complex installation work is required for installation or replacement. As a rule, the existing mechanical door handle is simply replaced by the electronic door handle.
The fitting is versatile because the reading unit with the communication electronics as well as the mechanics and power supply are located in the lever handle. This has the advantage that it can optionally be installed on both sides and is suitable for both right-hinged and left-hinged doors. With the IF-171, you also reduce the security risk if a badge is lost. Thanks to a blocking list, access is denied to lost badges. This means that you hardly incur any costs if badges are lost.
Additional functions of the IF-171 door fitting:
Time-controlled access checks
Special time zones/day release
Automatic summer and winter time changeover
Acoustic signaling in case of low battery
Optical signaling when the badge is read
No power or cable installation required