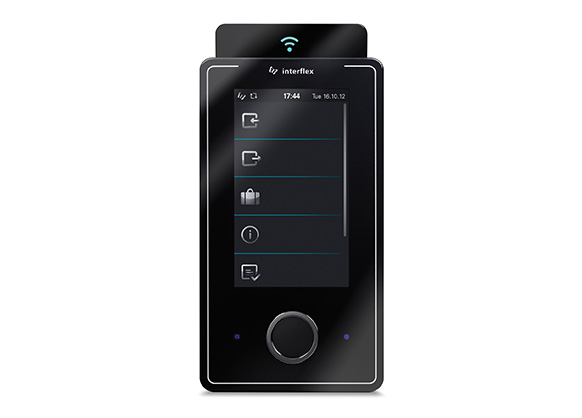 New wireless feature adds versatility to customers' use of eVAYO terminals from Interflex
Central access control and work time recording or a fast overview of which employees are present in case of an evacuation: Digital recording and further processing of these kinds of key indicators have made activities and planning processes in the areas of personnel and security much simpler and more secure. However, there are scenarios that cannot be served by solutions that are usually permanently installed and connected via data cables. Terminals equipped with Wi-Fi are suitable for these purposes. Alongside stationary use in places such as historic preservation sites, these terminals are especially suitable for applications that require high levels of mobility and flexibility.
One recent study shows that mobility plays an increasingly important role in business. Eighty percent of the decision makers surveyed intend to invest in holistic management of the workplace IT environment, including mobile use scenarios.[1] "When it comes to time recording and access control, in particular, there are various cases where off-site work or difficult structural conditions stand in the way of traditional connections using data cables," explains Dr. Andreas Bloom, Senior Product Manager at Interflex Datensysteme GmbH & Co. KG. "Thanks to their wireless functionality, eVAYO terminals can be used flexibly and on a mobile basis, allowing for standardized digital time recording and access control anywhere, for example as soon as employees arrive at a site – even if that site has only been rented for an event," he adds.
Mobile Use Scenarios: The Wi-Fi Terminal Simply Goes Along
An example of a mobile use case would be the placement of a Wi-Fi time recording terminal on a company bus that takes personnel to work sites that are not on company premises, like construction sites or office trailers. This would save employees the hassle of clocking in inside the building. Instead, they could clock in to work right on the bus. The data is saved in offline mode, and then, when the bus drives into the depot, it is automatically synchronized with the time recording solution via wireless communication. In the case of an evacuation at an external site, for example, the fact that data is collected on a mobile basis means that the responsible parties always have an up-to-date overview of all employees who are present.
There are also stationary applications where using Wi-Fi terminals is a good idea, such as in historical preservation areas. Installing new cables can be very cumbersome or even completely impossible in construction terms in these areas. These terminals also make it possible to include parts of a building that have not previously been equipped with data cables, quickly and at low cost. A wireless terminal is a quick and budget-friendly way to integrate side entrances into HR and security systems. Wi-Fi can even be used to quickly connect a parking structure on the other side of the street to a company's own access solution.
1 Crisp Research study: "The Adaptive Workplace – Arbeiten im 21. Jahrhundert" http://www.cio.de/a/was-beim-arbeitsplatz-der-zukunft-wichtig-wird,3243037 (German)