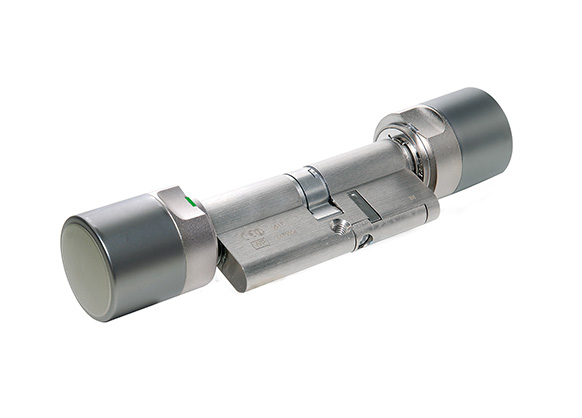 Interflex Datensysteme GmbH presents a new electronic locking cylinder: The IF-181 e-cylinder stands out for its performance and convenience. Its intelligent inner workings and the large selection of versions, for example for anti-panic, half-cylinder and fire protection doors, allow individual solutions for almost any application. Whether in universities, hospitals, care facilities, banks, insurance companies, municipal buildings, industrial buildings or airports – the IF-181 electronic e-cylinder puts any desired security standard into effect cost-effectively, quickly and flexibly.
With conventional locking systems, key loss is a serious risk. The IF-181 e-cylinder replaces the mechanical key. An RFID medium, usually a key fob or chip card, now enables the door to be opened. The IF-181 e-cylinder detects whether the holder has access authorization. By holding the RFID medium up to the e-cylinder without contact, the cylinder is moved and thus the door is opened. If the RFID badge is lost, it is simply blocked.
Can be integrated in existing safety systems
The IF-181 can be integrated directly into the IF-6020 and IF-6040 access control systems via the NetworkOnCard concept. "Since the e-cylinders are compatible with the IF-6020 and IF-6040 access control systems, existing company ID cards and data stored for them can continue to be used," explains Dr. Andreas Bloom, Head of Product Management at Interflex . "The user can define access authorizations in them and transfer them to the IF-181 e-cylinder." Conversely, the processes stored in the locking cylinder can be evaluated in the access control system.
Quickly assembled and versatile
Thanks to its ability to be integrated into existing systems and its simple installation, the IF-181 series offers a cost-effective and fast solution for greater security and convenience. The electronic locking cylinder consists of an electronic knob and a profile cylinder. The knob takes over the function of the key by evaluating access authorizations and granting access only to authorized persons. The IF-181 e-cylinder is uncomplicated to install, compatible with numerous European lock standards and can therefore be used in all conventional locks. It is suitable for both new buildings and existing properties, and due to its simple design, even for architecturally sophisticated buildings.
Dr. Andreas Bloom comments: "No complex installation work is required for installation or replacement. As a rule, the mechanical cylinder is simply exchanged for the IF-181."