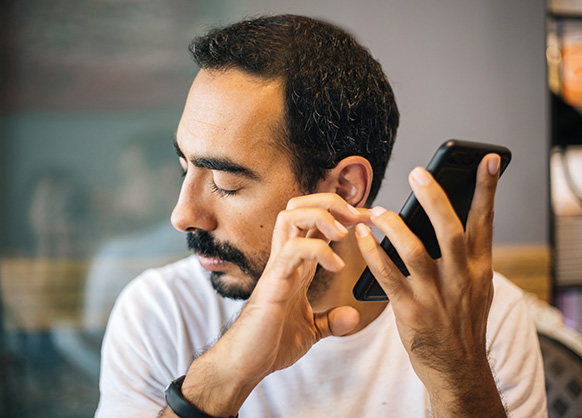 Correction of the press release, dated November 24, 2021: Approximately one in ten people in Germany lives with a physical disability. For individuals affected accessibility is an absolute necessity. And even individuals with temporary disabilities benefit from it. For all others, a good user experience makes everyday life easier. Since November 2021, Interflex therefore offers the Employee Self-Service of the IF-6040 (version 10.3) as an accessible solution. IF-6040 is a software solution that includes modules for access control, user management, time management and personnel scheduling.
For everybody
In accordance with the common definitions, accessibility means that a solution can be used by everybody without any assistance from others. Interflex therefore also includes the blind and deaf, individuals with mobility disabilities, learning difficulties, psychological or chronic conditions. Accessibility is particularly relevant for public facilities in Germany because in accordance with EU Directive 2016/2102, their websites and mobile applications must be accessible at the latest since June 2021.
Accessible time management in Employee Self-Service
In its new version, the web application supports the use of screen readers for time recording in the Employee Self-Service. It provides clear contrasts by means of colors that were specifically chosen for this purpose. Selected elements are visually highlighted and the application can be fully operated via keypad. Page titles support users to orientate themselves easier and faster. Correction suggestions point out missing or incomplete entries: And due to the responsive design, users can view the software on all common output devices and in all common display sizes. The feedback mechanism enables users to report missing accessibility options and to exchange information with Interflex for improvement of the service.
Germany-wide standard
Interflex, a member of the International Association of Accessibility Professionals (IAAP), takes it a step further and does not only implement BITV 2.0. Together with the BIK BITV test association and Joschi Kuphal, consultant and auditor for accessibility from tollwerk GmbH, Interflex creates the time management of the IF-6040 application accessible in an iterative process. This is designed as a long-term approach: Interflex constantly monitors with automated software tests if criteria are still met. If this cannot be accomplished via automation, it is carried out manually. The test association develops its own testing software and bases its approach on the process that was developed jointly by Interflex and Joschi Kuphal. Accessibility becomes more and more the standard in the entire GSA area (GSA = Germany, Switzerland, Austria); for this reason, the test association is working with Interflex on a Germany-wide certification mark for accessibility. It certifies that the software is continuously being monitored and improved and that development processes are adapted.
Decision of the ECJ on time recording
In the long run, accessible time recording will furthermore become relevant for companies because according to a decision by the European Court of Justice (ECJ), employers are obligated to set up an objective, reliable and accessible time recording system. So far, this decision has not been regulated by German law. "However, decisions such as those from the District Court of Emden in February and September 2020 indicate that it is advisable to introduce a corresponding system. This will equip companies for the future, because a system decision is a long-term decision", explains Dr. Andreas Bloom, Senior Product Manager at Interflex. "And independent of legislative guiding principles, for us the topic of accessibility is primarily about the people."