Convenient option for your guests to check in and out at a kiosk
Enable your visitors to conveniently check in and out – thus decreasing the workload of your company's reception.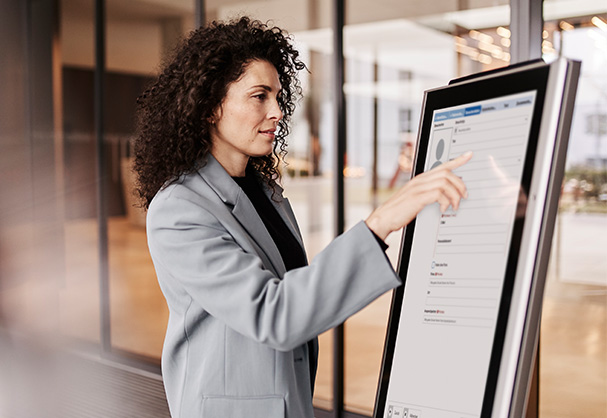 Independent check-in and check-out by guests
With the Self-registration Pro base module, visitors to your company can conveniently check in and out on their own. That really lessen the workload of your reception staff. Visitors can check in and out at a check-in kiosk or at a tablet located in the foyer, entrance or reception area during their visit. The recorded data are saved automatically in the system and further processed if necessary. A conventional check-in at the reception is not necessary. As a result, the Self-registration Pro can be easily used at an unsupervised side entrance or in a branch office that does not have a reception desk. A visitor credential can also be issued as an option as part of the last step of the self-registration dialog, thus eliminating the need for an employee to be present.
You can also optionally ask the visitor to take a photo of themselves using the kiosk's built-in camera while entering their data. The photo is then stored in the visitor index and provides additional security when dealing with external guests.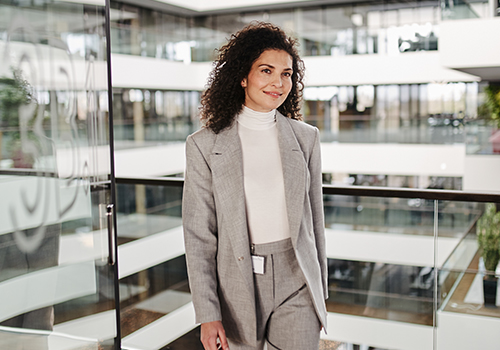 The registration process
Selection of dialog languages for visitors, other languages are optionally available.
Guests with an invitation can identify themselves using a QR code or PIN. Spontaneous guests can manually enter their visit data.
Information about the use of data as part of the visit (privacy policy)
Entering or correcting the visitor's personal data, e.g., by adding his or her mobile number or license plate number
A safety briefing that is to be confirmed provides information in the respective language, e.g., about the rules of conduct on the company's premises or, optionally, about the need to sign.
A briefing certificate can be saved in the system – fully automatically and provided with a validity date. The certificate is also valid for follow-up visits falling within a defined period.
After completing the self-registration, the visitor is checked in and optionally receives a pass or a printed visitor credential, and if necessary, an additional email or alternative email with further information about the visit.
Every step of the application is controlled by means of timeout. In case of inactivity, the input dialog automatically returns to the home screen so that the personal data are protected in accordance with GDPR.
Advantages
Check-in and -out directly by the visitor
Less personnel costs and administrative work
Systematic privacy policy
Image capturing increases security
Visitors receive and confirm directly a safety briefing
Briefing certificate with validity date and signature
Decentralized recording of visit data by the visitor
Intuitive user interface
Responsive design