Self-registration of visitors
Allowing visitors to check-in in advance at a kiosk or using a tablet in the reception area or foyer lessens the workload of your reception personnel.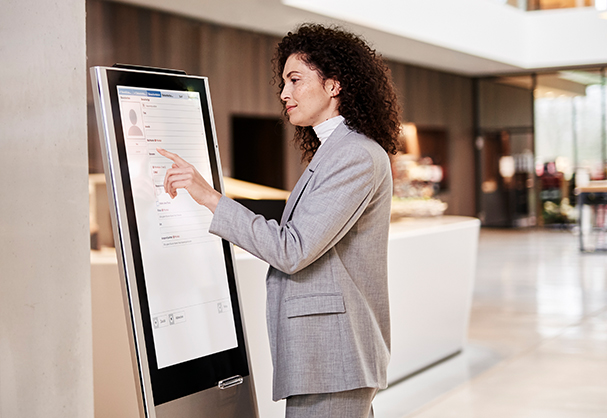 Efficient visitor management
In order to reduce the administrative workload for your reception personnel, the Self-registration Basic expansion module of the IF-6040 software is the ideal solution for companies looking to optimize their processes. Visitors can conveniently preregister using their personal data. The recorded data is automatically transferred after being entered at a kiosk or via a tablet at the reception. Optionally, you can also ask the visitor to take a photo of themselves, e.g., using the kiosk's built-in webcam while entering their data. The captured image can then be saved in the visitor index. This ensures additional security when dealing with external guests.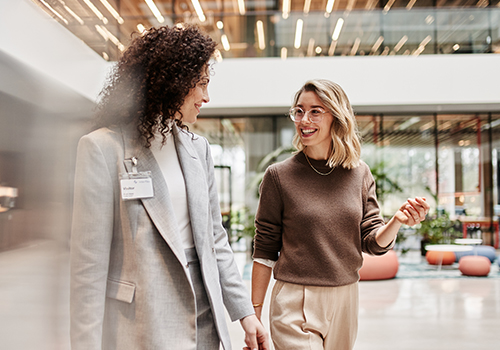 The registration process
Selection of dialog languages for visitors, other languages are optionally available.
Guests with an invitation can identify themselves using a QR code or PIN. Spontaneous guests can manually enter their visit data.
Information about the use of data as part of the visit (privacy policy)
Entering or correcting the visitor's personal data, e.g., by adding his or her mobile number or license plate number
A safety briefing that is to be confirmed provides information in the respective language, e.g., about the rules of conduct on the company's premises or, optionally, about the need to sign. A briefing certificate can be saved in the system – fully automatically and provided with a validity date. The certificate is also valid for follow-up visits falling within a defined period.
After completing the self-registration, a complete pre-registration is available and the visitor receives information as instructions and optionally a pass or an email to contact the reception.
After the guest enters the data, a complete pre-registration is created, which is then available at the reception for check-in. The self-registration does not only lessen the personnel's workload in your company but also ensures a better data quality. Personal data are protected, since every step of the application is controlled by a timeout. In case of inactivity, the input dialog automatically returns to the home screen.
Advantages
Decentralized entry of visit data by the guest
Systematic privacy policy
Visitors receive and confirm directly a safety briefing
Briefing certificate with validity date and signature
Reduction in the workload of the reception personnel
Image capturing increases security
Efficient registration at reception thanks to pre-entry
Intuitive user interface
Responsive design (desktop, tablet, smartphone)
Do you have any questions? We are happy to help you!
To reach the appropriate contact person at Interflex, please select the suitable contact method. If you are already a customer, kindly use the Contact form "I am an Interflex customer" and get in touch with the desired department via email.
If you haven't had any previous interactions with Interflex but are interested in our solutions, we would be pleased to receive your inquiry through the Contact form "I am interested in becoming a customer" We will endeavor to respond to you promptly.
Do you have a question, require information, or wish to share feedback with us? Please select the relevant department for your inquiry: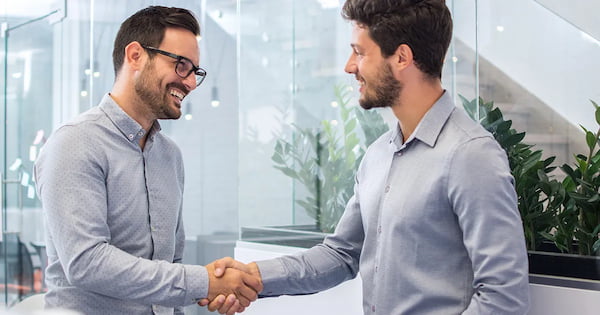 Feedbackmanagement:
Would you like to provide us with feedback? Please feel free to send us an email to: