Convenient registration and deregistration of your guests
Ensure that your guests have the most pleasant reception experience possible – without any long waits, lines or tedious registration process. This gives you the freedom to focus on what is essential.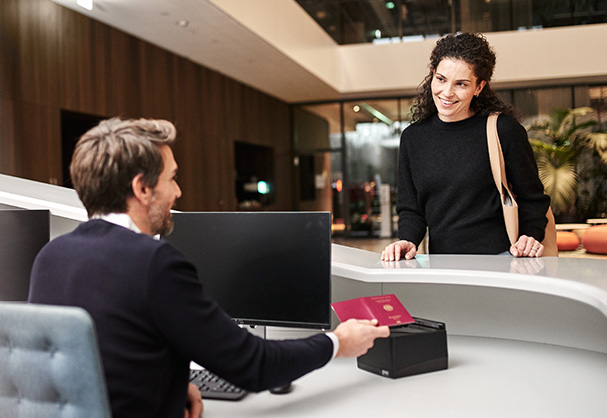 A reception as pleasant as possible
The base reception module enables the reception personnel to receive visitors easily, quickly and in a pleasant manner. This saves your guests from having to wait in long lines and go through tedious registration processes. With an invitation or self-registration ticket, the reception personnel registers visitors in jut a few clicks using the included QR code. The module's user interface is intuitive and can be used without any training, which results in a time-saving and secure guest management solution: This saves money in terms of training expenditure and even makes it easy to use temporary employees. Optionally, you can take a photo of the visitor using a webcam while entering the data. The photo is then stored in the visitor index and provides additional security when dealing with external guests.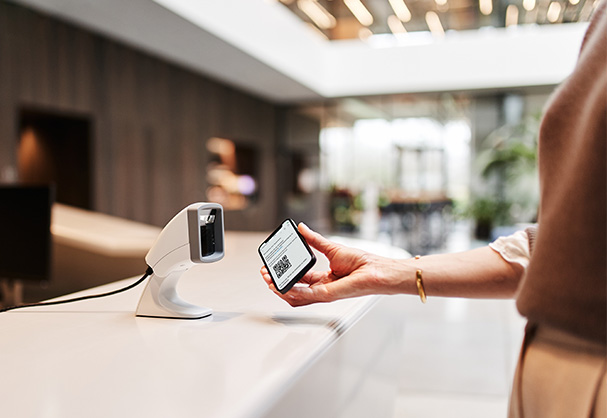 Recording login data quickly
Reception personnel quickly and easily records visitor data with the aid of the intuitive user interface – regardless of whether with or without preregistration. Whether individual or group registrations, day or multi-day visits — the processing of data does not take long. If certain data records are to be treated discreetly by visitors, they can be marked with the "Private" property. This means that they cannot be viewed by all employees. This option can also be activated as default for invitation and reception and separately for self-registration.
If necessary, a pass can be printed out directly. In addition, the module offers an intelligent search function in order to make finding preregistrations and visitor records from previous visits convenient. The reception module in the Self-service user interface can be used even more efficiently with the IF-73 desktop reader or with a QR code reader.
A display directly signals whether guests need a safety briefing, whether they are registered or unregistered and whether the planned visit time had already been surpassed. This applies both to individual participants and to groups. With filters and configurable information fields, reception personnel get the visitor data that is relevant to them.
Advantages
Simple recording of visitor data
Reduction in the workload of the reception personnel
Simple and intuitive operation, no training needed
Efficient registration with just a few clicks using a QR code reader
Clear status display
Intelligent search function with suggestions
Quick check-out of guests with the IF-73 desktop reader
Performance features
Filter functions based on the current day or location
Dynamic display of data fields (visitor types)
Preregistrations, registrations and unregistrations
Recording of new guests or companies
Optional: Reading of ID documents
Using different guest types
Safety instructions (with validity)
Changing or selecting a host
Assignment of access authorizations
Automatic notification to the host
Assignment of visitor credentials using the IF-73 desktop reader
Use of mobile credentials (smartphone) for visitors
Automatic printing of passes
Do you have any questions? We are happy to help you!
To reach the appropriate contact person at Interflex, please select the suitable contact method. If you are already a customer, kindly use the Contact form "I am an Interflex customer" and get in touch with the desired department via email.
If you haven't had any previous interactions with Interflex but are interested in our solutions, we would be pleased to receive your inquiry through the Contact form "I am interested in becoming a customer" We will endeavor to respond to you promptly.
Do you have a question, require information, or wish to share feedback with us? Please select the relevant department for your inquiry: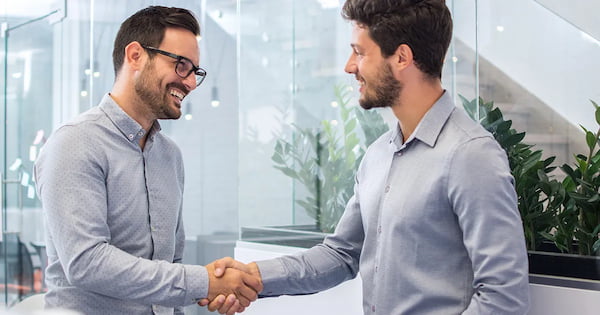 Feedbackmanagement:
Would you like to provide us with feedback? Please feel free to send us an email to: