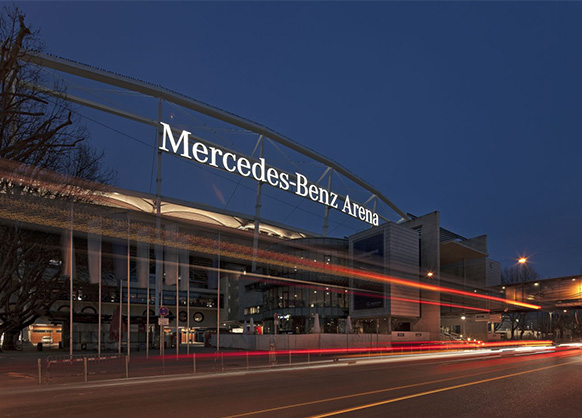 "The cooperation with Interflex could not be better. The contact persons are always available and deliver excellent work."

Marcus Bretschneider, head of sales, administration and organization at VfB Stuttgart Arena Betriebs GmbH
New stadium – New solution
A stadium where World Cups and national league matches are held is in the eye of public interest. This has a direct effect on security requirements. To ensure smooth business operations and the absolute safety of the stadium visitors, only authorized people may have access to the stadium grounds and buildings. The dangers that derive from a misuse of the access ways to the stadium can be quite varied. Curious fans, acts of vandalism, sabotage or even terrorism bear enormous potential risks. The existing access solution from Interflex with mechanical lock cylinders and keys does not comply anymore with current security requirements. In the course of a recent stadium reconstruction, a new solution for access control is being sought.
VfB Stuttgart Arena Betriebs GmbH counts on Interflex
With the old locking system, the distributed keys are managed manually. Keys that are lost need to be replaced or the entire locking system needs to be replaced. In addition to the time and financial expenditures, the security vulnerability is high because unauthorized persons could obtain possession of the keys. With the modernization of the security system, the assignment of access permissions should be made transparent and convenient. After intensive tendering meetings, Interflex, which has been a partner for many years, is commissioned to develop and implement a new access system.
Trust that pays off
Not only was the existing Interflex software updated in the course of the project, but the hardware in particular was significantly upgraded. A credential serves as a link between online and offline access control. Furthermore, numerous mechanical locks as well as the existing KEMAS connection, with its two key depots secured by Interflex readers, are seamlessly integrated into the system. In addition to all main entrances to the building, the entire perimeter of the arena, including its fences, security gates and other access points, is also secured by the new access control. On the inside too, access to areas such as the technical rooms and other areas that are relevant for security is controlled by the central access system today. Thanks to the new physical access control, access rights are assigned now with exact location and timing. Thus a person can receive access rights to specific areas for a specified time. These rights can just as easily be blocked again from one day to the next. Thus even cards that have been lost are no longer a risk factor. The improvement in transparency, flexibility, and security also pays out in the form of significantly reduced operational costs.