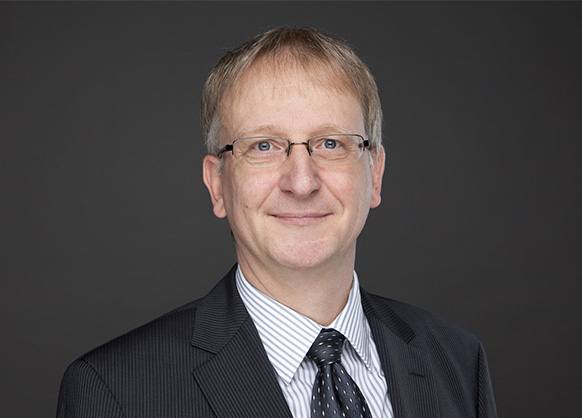 Dr. Jörg Wissdorf, Managing Director of Interflex, in an interview with the HR magazine "HR Performance". In the title interview, Dr. Wissdorf talks about topics that concern HR managers today. Topics include the perennial issue of workforce scheduling, the advantages of holistic solutions, savings opportunities with reporting, and trend topics such as mobile solutions. Read the entire interview and learn why customers can rely on Interflex today and in the future.
Interflex has been active in the field of access control and time and attendance for over 40 years. The company was a pioneer and driving force for decades. In recent years, things have been quieter around the company. Where do you see Interflex today?
Dr. Wissdorf: Of course, we look back on the founding years of Interflex with pleasure and pride. Wilhelm Haller was considered the inventor of flextime, and the later owner Peter Reiser turned Interflex into a strong medium-sized, internationally active company. When Interflex was bought by a corporate group in 2000, this meant great changes. Today, we are in a position to benefit from the strengths of a globally operating group and, thanks to the positive development of our business over the years, we are able to research new projects such as cloud solutions or mobile solutions.
What is the company's range of solutions, products and services?
Dr. Wissdorf: The broad solution portfolio is one of Interflex's strengths. We operate in the markets for access control and workforce management. In addition to flexible software solutions, this also includes hardware for access control and time and attendance, as well as services that include a comprehensive consulting, training, and maintenance offering for all services.
The demand for workforce management software has been growing for years. What do you offer your customers here?
Dr. Wissdorf: One topic that is burning under the nails of both companies and employees is the efficient use of working time as a resource. Imagine that a company has no financial resources available to hire additional staff. At the same time, employees rightly demand flexible working time models that allow them to swap shifts at short notice even in inherently rigid duty schedules, such as the shift schedule of a hospital. With the new modules of our workforce scheduling software, customers can easily manage their resources so that duty rosters meet employee needs, while at the same time keeping companies out of trouble in the event of staff shortages. What makes the whole thing particularly user-friendly are our system interfaces, which make the software child's play to operate. Ruler and eraser are thus passé.
Doesn't the comprehensive range of software, hardware, consulting and services go beyond the scope of the company?
Dr. Wissdorf: You will laugh, quite the opposite! One important reason why customers change their service providers or opt for us from the outset is that we can supply a great many services from a single source. In increasingly complex environments, companies want as little work as possible to tie up their legs and are happy to have a service provider who saves them a lot of coordination effort. After all, every new service provider ties up time for briefing, arrangements and so on.
Your company claims to optimize customers' business processes. Can you give any examples of this?
Dr. Wissdorf: Yes, because that is a very important part of our services. Employee Self-Service enables employees to take charge of swapping work assignments or time recording themselves, in addition to standard tasks such as vacation planning. This motivates employees immensely and relieves the administrative burden, as approval processes or substitute arrangements are automated.
What role do external partners play for your company or for your customers?
Dr. Wissdorf: It all depends on the area. We rely on partners, especially for access control solutions. For example, biometric solutions complement our portfolio. The customer won't take no for an answer! In markets that are largely saturated, customers expect a service provider that completely fulfills their wishes. And if they can't do it themselves with existing resources, they have to get the missing components. That's exactly what we do, without giving customers the feeling that they are incurring additional expense. The only thing that matters is that we provide the desired solution.
The importance of consulting and services is growing. How are you responding to this?
Dr. Wissdorf: The good thing is that we don't have to react ad hoc today. Interflex has long relied on consulting services and its own service, which is on the road every day and looks after the customer from installation to maintenance. But of course you are right, in the future we can position ourselves even better in the market with excellent service but also additional services such as professional project management or key account managers and thus stand out from the competition.
You attach great importance to sustainable partnerships with companies. What do these look like?
Dr. Wissdorf: Customers in our segments often make considerable investments for the implementation of our systems. So it's quite clear that we have to give the customer the security that he can still rely on our solutions in a few years' time. A major advantage of our systems is that they are scalable. Everyone is talking about change management these days. If a company is forced to restructure or grow by adding more business locations, this is not a problem because the system architecture of our software is very flexible. To give just one example.
How would you describe your customer portfolio?
Dr. Wissdorf: Diverse. This is due to our broad range of products and services. While we operate across all markets in the field of access control, we sell our workforce management solutions, especially in the area of workforce scheduling, in vertical markets such as airports or call centers. Our customers therefore include not only automotive groups and industry, but also bank branches, government offices and large retail chains.
In times of Big Data, topics such as evaluations, reports and analytics are also moving to the center of attention for you.
Dr. Wissdorf: A very important topic for our customers. On the one hand, because compliance rules force them to make certain processes in the company traceable at all times. On the other hand, companies can optimize their processes through controlling and reporting, and this brings real savings potential, which is usually already completely exhausted in the case of personnel and product costs. With the help of individually adaptable instruments, companies can identify deviations from plan and increase work productivity. Weak points in the company can thus be identified at an early stage and those responsible can react accordingly.
Mobile solutions are another growth area. What do you offer your customers here?
Dr. Wissdorf: For example, employees can submit vacation or time-off requests from anywhere using their smartphone, and supervisors can approve them. In addition, NFC technology can also be used to control access with a smartphone. We see great development potential here that has not yet been exhausted.
What are the advantages for your customers of being part of an international company?
Dr. Wissdorf: In addition to protecting investments through existing capital, the large network also helps the transfer of knowledge, which drives the further development of our products. In addition, global quality standards apply. Incidentally, the partner TÜV Rheinland was recently selected as a neutral testing authority for global quality assurance.
How would you describe your corporate culture and strategy?
Dr. Wissdorf: Wir bieten eine ganze Bandbreite an Lösungen an, agieren jedoch in verschiedenen Märkten, auf denen wir jeweils Experte sind. Außerdem sind unsere Systeme flexibel und lassen sich den Bedürfnissen unserer Kunden anpassen. Die Anforderungen des Kunden stehen bei allem was wir tun im Vordergrund.
What are your goals for the coming years?
Dr. Wissdorf: We want to grow with the requirements of our customers. This means that we focus on the areas of mobile and cloud solutions. In addition, we would like to implement our systems abroad with internationally operating companies and grow internationally in this way.
Source: HR Performance 1/2016 – www.hrperformance-online.de