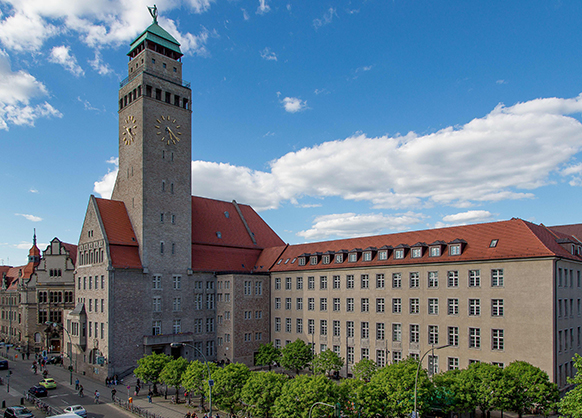 "We save some work days every month" – Berlin-Neukölln district office introduces electronic time recording
Neukölln city district is one of the most exciting and diverse city districts in Berlin. There are many artist and student apartments and busy streets with many oriental bars and shops resulting in a multicultural flair. The city district, which is administered by the Neukölln district office, has about 330,000 inhabitants from more than 150 countries. Around 2,000 employees, working in areas such as urban planning, citizen services or the local school authority, as well as youth, family and social services, attend to the concerns of the multicultural people living in the neighborhoods.
The expansion of the range of digital services offered to the residents of Neukölln is an important project for the district administration. The district office already offers its residents the opportunity to actively take part in shaping the city via a digital project platform (mein.berlin.de) and to submit ideas.
The topics digitalization of internal administrative processes and greater involvement are also at the very top of the agenda at Neukölln's district office. It became clear after the employee survey that the effort involved in recording work times could be significantly reduced using an electronic solution. In the spring of 2021, the administration had decided to digitize their employee time recording system.
"Until recently, work time was manually entered and maintained using Excel applications," recalls Jörg Grieswald, Head of Human Resources Service Unit at Neukölln district office. "The work times were then checked again randomly by persons responsible in the office's management. With the conversion to an electronic recording system, these frequently time-consuming checks and control mechanisms were no longer necessary. This saves us a couple of work days every month."
Besides streamlining the processes by converting to an electronic and simplified system for recording work times, two topics were especially important for the project: The presentation of flexible work time models as well as the implementation of an electronic workflow, which employees can easily use to submit requests for vacation and a day-off and transparently view them.
"While we have public officials who work 40 hours a week, most employees are salaried and work 39.4 hours. There are also various part-time models, in which the work time is reduced, e.g., by just one hour a day, or employees who only work five hours," explains Jörg Grieswald. "This complexity must be able to be mapped transparently in the electronic application."
After trial operation, the first 680 employees have been working with the web-based application IF-6040 Time in trial real operation as of May 1, 2022. In addition to that, IF-5735 time recording terminals were installed at the first larger locations. Employees can use these to record their work times with the aid of an RFID chip. Despite some challenges during the test phase – with delays due to illness and training workshops that could only take place by means of video conference as a result of the corona virus pandemic – Jörg Grieswald concludes positively: "The first feedback relating to real operation has been positive thus far," Grieswald says summing up the first weeks after the launch. "I was personally very happy about that. Everything went smoothly and 'silently' without a hitch."
In the next 12 months, Neukölln's district office is aiming to ensure that the electronic time recording system is used comprehensively at all planned locations in the district. The planned workflow for vacation requests is expected to follow in the near future.
A joint project—barrier-free Self-service in Time Management—also shows that the close dialog between participants and a needs-based adaptation of the solution are particularly essential. Feedback from employees of Neukölln's district office is continuously being integrated into the further development of a barrier-free Self-service in Interflex's time management solution. "We are planning to offer our employees a barrier-free electronic time management solution with the aid of Interflex in 2023," Grieswald adds. "We are confident that expanding Interflex's solution by adding a barrier-free Self-service will ultimately benefit other customers as well."