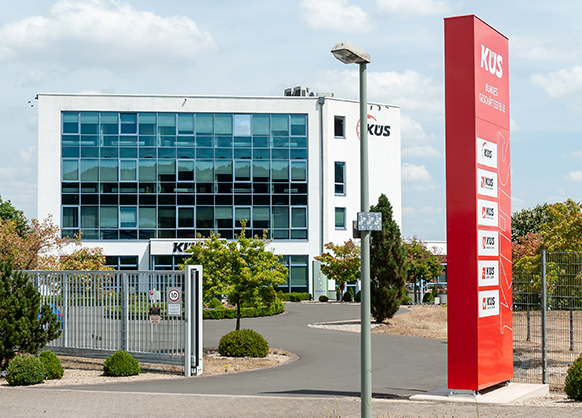 German national headquarters of KÜS (Kraftfahrzeugüberwachungsorganisation freiberuflicher Kfz-Sachverständiger e.V. [supervisory association of freelance vehicle experts for vehicles]) has been an Interflex customer for over 20 years. Our cooperation started with solutions for access control. By now, the service provider also relies on applications for time management and – as of the beginning of 2020 – for personnel scheduling.
This was a logical step for KÜS. This is because the organization that sees itself as a full-service provider (for example for vehicle and traffic safety), promotes personal responsibility of its approx. 200 employees for the national headquarters in Losheim am See as far as work time is concerned. Of particular importance is the implementation of flexible working hours, transparent processes and inclusion of employees. This works with the modern software solution IF-6040 that simplifies the administrative effort at the same time.
Access control and time recording in one system
Cross-divisional KÜS relies on different solutions from the Interflex hardware and software portfolio: from time management and personnel scheduling to online and offline solutions for access control. The software system IF-6040 forms the central platform. The access authorizations of employees and the connected IF-800 terminals are controlled in the application. The hours worked that were recorded at the eVAYO IF-5735 terminals are also transmitted to the software. For efficient management of its vehicle fleet, KÜS additionally integrated the Driver's License Test module. In particular the employees of KÜS DATA GmbH appreciate this easy and centralized control of different processes. KÜS DATA is a wholly-owned subsidiary of the KÜS consolidated companies that supports, as a modern IT service provider with its data center, numerous clients from industrial and business sectors, and is furthermore responsible for the entire IT of the national headquarters of KÜS. Thus, they also manage IT solutions for access control, time management and personnel scheduling, and additionally support the management of KÜS in administrative tasks concerning personnel. It was therefore especially important that the installation of current solutions and products, such as the migration to the new IF-6040 system can be accomplished smoothly and without exchanging hardware. A formula for success is here the close professional exchange on equal terms and effective cooperation of KÜS DATA and the Service department of Interflex.
Working transparently and flexible
At the beginning of 2020, KÜS has added the Personnel Scheduling module to the time management solution. It makes it easier for employees to flexibly schedule and participate in designing their working hours. Employees use the application to independently enter themselves – and upon coordination in their team – for an early shift or a late shift. "Previously we have relied on an Excel sheet. In the end, this was simply no longer practical with respect to its access and handling", remembers Thomas Auer, Managing Director of KÜS DATA. "Our experience with the Personnel Scheduling module is very positive. Its acceptance rate within our company is very high because it simplifies so many process steps and takes the individual requests of our colleagues for flexible working hours into consideration." Since scheduling and recording of working hours are integrated in one software application, hours worked, vacation and compensatory time are recorded for accounting and processed in accordance with the law. Employees can furthermore track how many hours they have worked. "As a result, the productivity of our employees has increased. Even if they have to work somewhat longer on one day, the working time is credited by the minute and can be flexibly taken at a later date. This increases the acceptance for overtime that is sometimes necessary and is a fair solution for both sides", explains Auer. In the end, KÜS was able to reduce many administrative steps with the software solutions. For example, it is no longer necessary to manually prepare analyses, they are provided at the touch of a button. A further advantage: The application allows employees to check at all times who is currently working on site in the office or working remotely from home and which colleague from the field team is currently attending an appointment.
Plans for the future
Currently, KÜS is constructing a new building in Losheim am See for its academy with offices, auditoriums and parking lots. The access solutions and time recording terminals from Interflex are also intended for here. "It would be amazing if we could use the smartphone in the future as an identification medium instead of a credential or token", according to Auer. "In our hearts we are IT-minded and therefore always interested in innovative solutions and optimizations. With the Personnel Scheduling module, we are able to allow our employees more flexible working times and we have more time to work on new solutions for us and our customers thanks to the reduced administrative time and effort."